Click on the machines below..
Additional discounts are only available whilst stocks last.
HP T830 Double Trade-In
Savings of up to £400!

At half the size of any other 36-inch MFP this fast, robust, multifunctional printer is capable of transforming your workflow through ease of use and connectivity. A protective rubberised casing is available.
Please be advised, limited stock.
HP T3500 Double Trade-In
Savings of up to £1,900!

The most productive large format MFP comes complete with advanced copy/scan features. The market's fastest colour A0-size Multi-Function Printer. Built with rigorous IT demands and top security in mind. Please be advised, limited stock.
Call Jess on 01189 331242 to organise a demonstration at one of our many showrooms.
Open Days planned in Liverpool, Preston, Nottingham, Woking, Bradford, Sheffield (dates TBC).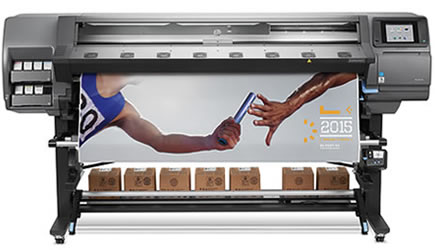 New HP Latex 370 printer
Higher productivity and improved margins. Produce high quality signage, textiles and more at production speeds.
Keep running costs low with 3-litre ink cartridges and unattended printing. Avoid dry time for same-day delivery.The HP Latex 370 uses 3 litre HP 871 latex ink boxes which can be 'hot swapped' ensuring true 24/7 uninterrupted printing.

Read more..
The demand for personalised interiors is rapidly growing. Create everything from wall paper to posters in a simple and easy-to-use way
From large retail units and spacious condos to boutiques and bedrooms, commercial and residential interior design has never been more exciting. Now we can help you capitalize on the growing demand for inspiring wall decorations with a range of HP products that will meet your every need.